Testimonials
We haven't launched our service just yet, and we're still perfecting our content channels (and website) whilst we're in the beta phase. Therefore, we don't have any testimonials just yet! Come back soon because we think we'll get some cracking ones!

Chris Haycock, visitr
Tourist information BOOSTS hotel bookings
Friday, 06 September 2013
Author: Chris Haycock, Founder & CEO
---
Almost 9 out of 10 potential hotel guests are influenced into booking a hotel that has spent time publishing local tourism information on their websites, according to research by digital concierge provider Visitr.
When it comes to influencing a guest's decision to stay at a hotel, the inclusion of attractions, events, weather forecasts and other useful local information can have a direct influence on whether a potential guest books your hotel, rather than your competitor, says the company.
Key findings
Almost 9 in 10 influenced by tourist information on hotel websites
Just 3 in 10 hotel websites publish useful local information
Including tourist info can increase your bookings
Visitr (www.visitr.co.uk) asked 425 people from around the world whether tourist information displayed on a hotel website would influence their decision to book that particular hotel, with 86% saying yes, it would.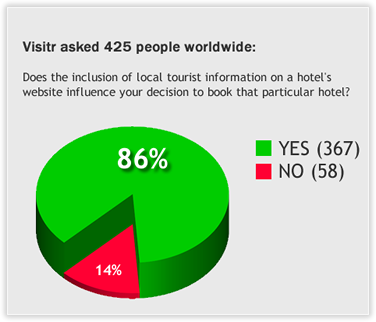 Ironically, additional research by Visitr shows that just 3 in 10 hotels publish local tourist information about their area on their websites, and just 1 in 10 hotels included details of events taking place around them. The research examined the websites of hotels of all sizes, including large hotel groups, country hotels, independent hotels and B&B's.
Chris Haycock, the company's CEO and founder said, "It's easy to see why hotels of all sizes are not spending time creating useful tourist information on their websites. Collecting, publishing and maintaining tourist information on a website is a huge task, especially as it changes all the time. In some cases hotels would need a full time member of staff to accomplish this. Nevertheless, this research shows that by doing so, it can sway most people's decision, so that they book your hotel instead of a competitor", he said.
Haycock continued, "With hotel websites being the primary source of information for consumers looking for a hotel, the onus is on the hotelier or marketer to include local tourist information on their websites to maximise bookings from people who have their mouse hovering over your 'book now' button".
---
For hotels that want the perfect solution to the problem of a lack of time, resources and money maintaining a suite of tourist information on their websites, Visitr can assist. By including a few lines of JavaScript code to your hotel web page, you can benefit from having a virtual concierge directly from your own website. Why not read more information about our virtual concierge solution, or if you're already convinced it's best for your hotel, you can sign up here.
---
comments powered by

Disqus
---
Latest Blog Posts